Since 1998, DMO has been delivering exceptional quality service to clientele Australia-wide and globally. We cater for in-house printing, creative design and mail online Australia distribution, from magazines to products and virtual mail. Our logistics service is second-to-none and we are highly efficient and provide an accurate and speedy service. Furthermore, we cater for a diverse range of business needs and can tailor a solution to suit your requirements. We deliver a comprehensive and cost-effective service that will help your business achieve its goals in mail online Australia distribution and other marketing distribution. In keeping abreast of the times, we are environmentally-friendly and aside from virtual mailing, we utilise a degradable plastic wrap for magazine distribution and Australian Forestry Standard paper for printing requirements. You can rest assured that we are committed to environmental sustainability. We utilise the very latest production, packaging and imaging techniques to ensure that the end result is of premium quality and you can be satisfied knowing we have catered to your requirements and representing your business to the optimal level.
Committed to expert mailing services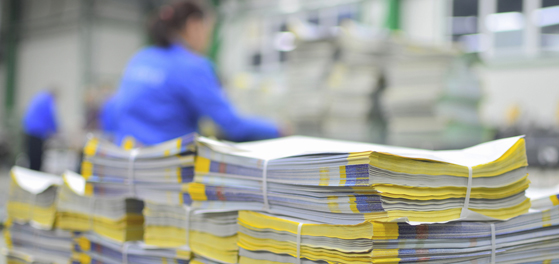 DMO can tailor solutions to suit your requirements for mail online in Australia. Our motto is that 'there is no mail run too small' for us to manage and we deliver timely service with efficacy. Our team utilises technology platforms to distribute your mail to clientele and business contacts.  Specialising in invoice and statement mailing, we make electronic printing and addressing simple and a smooth process to ensure that your invoices go out on time. Utilising the latest technology with premium mailing machines, DMO can process your documents through a number of bar-coding and intelligent processing options and we can tailor an ongoing solution to suit your needs. We offer a competitive and on-budget cost and are a one-stop service for your mailing requirements. Further to mail online in Australia, we can deliver high-speed folding and inserting, envelope printing and addressing, high-speed environmentally-friendly wrapping and we are an Australia Post Bulk Mail Partner so no run is too big for DMO to manage. If you are a charity seeking the services of a mail distribution company, we can cater for your needs. Cost-effective solutions are at the core of a not-for-profit and we offer better postage rates than the usual bulk mail discounts which Australia Post can offer. Having assisted numerous organisations achieve cost-effective solutions to ensure that more money is invested into the cause and we will accomplish mail-outs that reach all the potential donors you need. We have recently assisted in raising over one hundred thousand, not once but twice, to enable the purchase of medical equipment desperately required by one of our clients. Our dedication to assisting clientele achieve their goals and minimise mail online and printed mail costs to Australia is second-to-none.
 Mail online Australia, printing solutions and warehousing distribution, DMO: your one-stop business
Further to mail online in Australia and printing solutions, DMO can cater for your product distribution needs. Armed with warehousing and distribution professionals at your service, we provide secure storage facilities and can facilitate a one-stop solution. Whether it be magazines or letterhead documents, we are ready and able to store them and pick, print and post on-demand when you need. Even if it's at short notice, DMO's efficient and timely management of mail, deliveries can still be achieved! Subscription magazines, newsletters and catalogues are a few of the products we can mail for you as well as information packs, Body Corporate legal mail and small or large invoice and statement runs. We are careful with presentation and ensure that your business or organisation is accurately and professionally represented. Furthermore, we work with all kinds of businesses including charities and know how sensitive data can be; in a mail online world, virtual distribution is paving the way for easy mailing but you need to ensure that yours and your clients' data is secure; we uphold this with the utmost protection. DMO regularly undertakes internet security measures to protect your data including, but not limited to external audits and testing and our security is ironclad. We manage your data in the strictest confidence and you can rest assured that our aim is to help you and your business succeed in a virtual and print mailing world.  Contact us today so you can get started today.